Buy Frontline Top Spot for Cats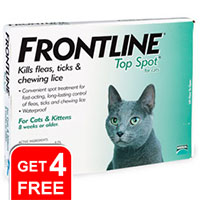 Cat flea killer monthly spot-on treatment for 8 weeks and older kittens and cats, Frontline Top Spot is an effective solution for fleas and chewing lice. It kills adult fleas within 24 hours of application. The waterproof treatment prevents re-infestations by killing adult fleas before they lay eggs continuously with that its a fast acting & long lasting flea treatment for cats & kittens.
Note: For tick control on cats, use FRONTLINE SPRAY
Frontline Top Spot for Cats
Manufactured by Merial/Boehringer Ingelheim, Frontline Top Spot for Cats is an effective treatment for the control and prevention of fleas and biting lice. Made up of Fipronil as the active ingredient, the treatment kills adult parasites for a period of one month. It takes just 24 hours for Frontline Top Spot to get rid of adult fleas.
The treatment is waterproof & fast-acting that giving you the freedom to take your cat for swim or bathe. It also assists in treating Flea Allergy Dermatitis(FAD) and prevents sarcoptic mange in kittens and cats. It protects your cat from painful bites of chewing lice and is suitable for all breeds of cats.
Note: For tick control on cats, use FRONTLINE SPRAY
Please Note: Merial is now acquired by Boehringer Ingelheim. So, the manufacturer's name on product packs may vary according to the available stock.
Ingredients
Manufacturer
Merial / Boehringer Ingelheim