Are You Ready For Happy Labor Day Weekend Sales?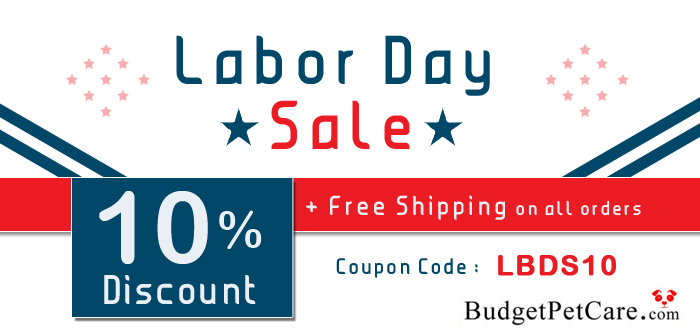 Labor day weekend is here upon us. It is that time of the year when you can decide to have a last summer holiday by drinking beer at a barbecue. But don't forget about your furry pals. After all, these lovely companions love you unconditionally. So, this labor day weekend, why not do some activities with your furry pal that will not only make him feel special, but also make this day special like:
Shop Pet Supplies With The Best Deals From Labor Day Weekend Sales
Taking him to a pet friendly beach and let him explore the ocean smells and roll in the stinking pile of kelp. If he likes swimming, he will be in the seventh heaven. But if he does not like it, let him leave alone on the beach to sunbathe on a warm stretch of sand.
Host a party for your furry pal by getting pet lovers together. You can invite the folks that see you with your pet in your routine life and friends and family that have pets. This will ensure that you have a gala time this labor day with your pet.
Go on a hiking trail with your furry pal if you have not explored it yet. Go on a trial that is only as challenging as you would normally hike.
Go camping with your pet which is a great way to not only explore the wilderness, but also a great chance to hear new sounds, smell something new and see something amazing. Imagine, you will sleep in a tent together and go for an adventure during the day. Wouldn't it be amazing?
Stay in a pet-friendly inn where you can have a relaxing time with your buddy.
If you want to spoil your pet, book this labor day weekend at a pet-friendly resort or spa where your furry companion is pampered and groomed. This will be a touch expensive but isn't it worth it?
While you can consider these things, it is important to ensure that your pet receives the requisite treatments on time like flea and tick, dewormers, heartwormers etc. Remember, this labor day weekend would have an extended holiday and so you do not want to take any chance with the health of your pet. It will not be possible to reach any veterinarian during this period of festivity. So, it is important to plan well in advance about the pet care supplies that you would like to hoard for the occasion. You do not want to take any hasty decision that would compromise the health of your pet.
BudgetPetCare understands this predicament and so the company has come up with 10% site wide Discount on all Pet Care Supplies. It is one of the most distinguished names when it comes to selling genuine and branded pet care supplies at a price that does not hurt your pockets. Lots of customers have already showered lots of appreciation for the company and hence, in a very limited time, it has grown from leaps and bounds and has become one of the most reputed online pet care supplies store in the country.
The Specialty Of Labor Day Sale On BudgetPetCare
BudgetPetCare is the pet owner's ultimate choice for its reasonable pricing and qualitative service and so if you purchase pet care supplies on this special day you are bound to get more discounts which is an amazing deal. (Isn't it?)
In addition to the already curbed prices, BudgetPetCare is offering an additional discount of 10% on all its pet care supplies. (Where will you get such prices in our country??)
Zero shipping charge (This is an absolute winner because you can now order sitting on your couch without the need of paying anything additional apart from the product price)
If you have not purchased anything from the company yet, this is your chance to experience the lowest prices and branded, qualitative products (What would you lose if you try this online shopping destination for once?)
An amazing opportunity to shop for your favorite branded pet care supplies that you might have missed due to the expensive prices (You end up gaining a lot with nothing to lose!!! Amazing, isn't it?)
A super saving and fun-loving experience awaits you when it comes to labor day weekend sales. Don't wait, rush now to the online store and save big!!! Use the Coupon Code LBDS10 and ensure the safety of your pets this labor day because there is nothing as important as your furry pal!!!