Traveling with Dogs Tips: Road Trip with Pets
COVID-19 has put a halt to all our traveling plans and while we are staying indoors as much as possible, it can get challenging to spend hours and hours at home. But thankfully, things are getting back to normalcy slowly but surely. And when it does, we are quite sure you are eager to step outside, take that car, and drive to someplace just for the sake of traveling. But before you make any such plans, we are here to tell you that the next long-distance traveling plan you are making, why not involve your furry buddy as well? Dogs are known to be a human's best friend and surely your canine pal will love it if you take them on a road trip to remember. But there are certain things you need to follow while taking your dog for a long trip. We've mentioned them below, so keep reading on.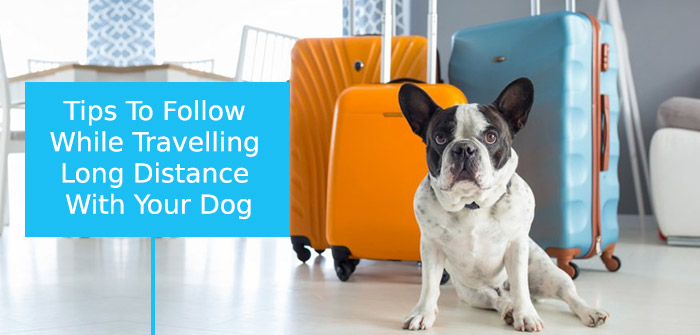 Tips you Need to Follow While Traveling with Your Dog
There are a few valuable tips that will help you experience a seamless and stress-free trip with your canine buddy. So make sure you read through all of them before planning it out!
#1. Food and Water for Your Dog
An absolute must for any long trip with your buddy is of course carrying sufficient amounts of water and food. Dogs tend to get dehydrated fairly quickly, especially if it's a hot day. So carrying lots of water and food is necessary. Besides, do not forget to carry the food and water bowls, otherwise, how do you plan on giving them water to drink and food to eat?
#2. Pet Carriers or Leashes
Even if your buddy is well accustomed to your car and does not have any difficulties in sitting on the cat seat, it is important to keep him leashed or in a pet carrier, & yes, always keep the window shut because you do not want to take any risk at all.
#3. Necessary Travel Supplies To Curb Motion Sickness
There are some breeds of dogs that are prone to motion sickness, especially if it's long-distance travel. Thus, you know your dog best and if he does have difficulties when you travel in a car for long distances, then it is important you carry the necessary supplies to curb motion sickness. A great way to do it is to use HomeoPet's Travel Anxiety product, which is absolutely great at calming your dog and relieving stress and motion sickness.
#4. Dog Friendly Hotels or Restaurants
Now if you intend on stopping by during your road trip for rest and whatnot, it is better that you have made a plan on which hotel or restaurant you want to stay put at. There are quite a few dog-friendly restaurants and hotels, so make sure you've made a reservation to avoid any last-minute hassles.
#5. A Few Poop Bags
Ah yes, do not forget about the poop bags. Your doggy will obviously be eating quite a lot while traveling, so it is obvious he may create a mess or two. But if you've got poop bags at your disposal, you need not worry even for a wee bit.
#6. Play Toys and Bones
Long-distance trips can get boring for the ones who are not at the wheel. And if your buddy can get extremely restless, especially sitting inside the carrier or tied up to a leash. But if he has something to kill time, it will make the ride a lot better for him. So ensure you are carrying his favorite toy or maybe a chewy bone that he loves to play with.
#7. Vaccination Card And ID's
And last but most certainly not the least; do carry your dog's vaccination card or ID proof. In case of any mishaps on the way, these documents will come in handy. So make sure you have these ready if and when they are needed.
We are all looking to travel, but right now, it is important to stay safe and keep ourselves and our pets safe as well. But when it becomes super safe to travel, make sure to take that long-awaited trip with your furry buddy. And yes, do follow the helpful tips when you finally make that trip. Bon Voyage!
---
Read More: Flea and Tick Products under $50 for Dogs that don't blow your money from your pocket: Budget-Friendly Dog Supplies
---
Share with friends as sharing is caring